For years I have gone to the park in Fort Benton, and for years the fort failed to materialize. All that remained was an adobe blockhouse that you couldn't enter and two fenced-off bits of walls, little more than mud heaps.
This time however, the Fort Museum was finally open and somewhere deep inside me, the 8 year old version of me was doing cartwheels.
Built as a trading post in the 1840s, Fort Benton claims the distinction of being the oldest town in Montana, as well as the innermost port in the world. From Fort Benton, merchants could ship their wares anywhere in the Pacific Northwest. South of Fort Benton, the Missouri narrows and gets treacherous ("As you uncles discovered every time they sheared a propeller off our boat by taking it up river" a quote from my grandma) and the eventual Great Falls of the Missouri puts a full stop on any lingering navigation hopes. So the steamboats stopped in Fort Benton and from there huge wagons pulled by twenty oxen apiece would take trade goods to the Montana gold fields, Walla Walla Washington, and into Alberta and British Columbia. The fort at Fort Benton was the crux of all this activity. For sixty years, it was also one of the main points of contact between white Americans and Native Americans. Originally a trading fort and later acquired by the army, Fort Benton served dual purposes for most of its existence.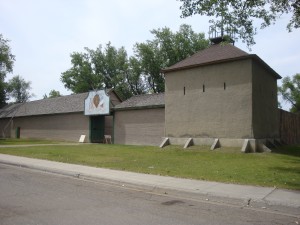 Today, the fort has been rebuilt, incorporating the old blockhouse, the oldest still standing building in Montana. In one building, they have recreated the store, and in another they have recreated a blacksmith's work shop. The store warehouse now houses a display on the fur trade from the Blackfoot Nation's perspective. What I loved most about these was how kid (and 23 year old) friendly they were. There were pelts and blankets and period tools lying around, and they didn't care if you touched them. The bottom floor of the third building has been turned into a (gloriously air conditioned) art gallery. At the moment, this features Karl Bodmer's paintings from the 1832 Missouri River expedition, and the bronzes and paintings of Robert Scrivner.