The lounge car of the train, with its arching tinted windows, chrome inlays and sturdy vinyl seats evokes a mid-century glamour. Occasionally a conductor will stroll through, stomach straining the buttons on his vest, one thumb tucked into a vest pocket, importantly checking the big round face of the watch at his wrist, calling "tickets, tickets" with (and I swear I am not making this up) an old-school conductor hat tilted back on his head. There's no need, of course, for the conductors to wear funny hats but they do, consciously inciting, like the lounge car, nostalgia for the era of Bing Crosby movies.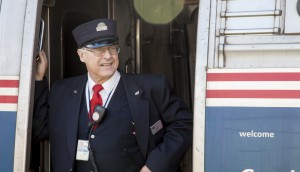 Trains, as they did almost a century ago when Agatha Christie penned her famous Murder on the Orient Express, gather "people, of all classes, of all nationalities, of all ages." Workers coming to or from the Bakken oil fields, trying to jam in a few hours of rest, grandmothers off to visit grandchildren in the Midwest, and an apparently constant stream of Amish, traveling from their homes in Indiana to Washington state and back again.
A low jumble of noise fills the lounge car. Some people play card games, do crosswords, read books to pass the time. Others search for common ground with strangers. Around it all rolls the Montana Hi-Line, a palate with a thousand different shades of green and gold, a land that National Geographic once described as possessing "beauties severe, subtle and horizontal."

The romance of the train doesn't negate two important facts. First, you are on a long metal tube with lots of other people. True, the train seats are almost luxurious—they lean far back and provide huge amounts of leg room—you can wander around at will, and you have ample space to bring a lunch cooler full of food, but you are still stuck on a tube with lots of other people, and this can get tedious. Second, Amtrak doesn't own the tracks. They rent them from BNSF, the freight hauler. This means that BNSF trains get priority. It also means that if you were (as we did) to ride the train in eastern Montana and western North Dakota, your train will get shunted to a side rail and you will watch glumly as mile-long oil trains whip by, usually delaying your arrival by several hours. Fortunately, Amtrak updates their website constantly, which prevents you from arriving at the station hours early.
So my recommendation of the train comes with some caveats. It is not the most effective means of travel. But we went from Whitefish to Grand Forks—almost all the way across Montana and all the way across North Dakota—and the train was ideal. I can't imagine driving that in a single day, and even though the train was very late getting in to Grand Forks, we could sleep on the way, leaving us better rested than if we had driven. On our westward journey, we encountered few delays once we got out of North Dakota, which means that the train is a fantastic way to travel from one end of Montana to the other.
Best of all, the train takes you across the Hi-Line. You get to relish in the gumbo hills and the swollen rivers, the rows of hay and fields of bread-colored wheat, the plains of grass that stretch to the cobalt horizon, all while sipping ginger ale and playing hearts. No experience can compare.
Click here for more pictures of North Central Montana, from the Billings Gazette